Access the latest insights about entrepreneurship in South Africa, including articles and reports about how business is changing and expert blog commentary.


featured news
Read about the latest news and themes in South African entrepreneurship. Topics cover everything from profiles and employment trends to new ideas and innovations being explored by the country's most successful businesses and start-ups—and how they're working to achieve their business goals.
expert views

Herman Mashaba
DA mayoral candidate for Johannesburg,
The following is an extract of a speech delivered today by DA Mayoral Candidate for Johannesburg, Herman Mashaba, at the launch of the DA's electoral campaign for Johannesburg.
Read more »
sable blog
After a quarter century, this small generation of South African immigrants has risen to break through, en masse, into such key leadership roles that they're changing the U.S. YouTube, PayPal, SolarCity, epigenetic cancer therapy and intelligent Mars robots exist only because of these expats...
inspirations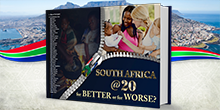 NEW BOOK: SOUTH AFRICA @ 20: For Better or for Worse?
Steuart Pennington's latest book—the 10th in the Good News series—provides thought-provoking views and insightful perspectives into tough questions and real concerns about South Africa. Read more ».

To order or for more information, email camilla@sagoodnews.co.za
or call + 27 083 4476305.