Access the latest insights about entrepreneurship in South Africa, including articles and reports about how business is changing and expert blog commentary.


featured news
Read about the latest news and themes in South African entrepreneurship. Topics cover everything from profiles and employment trends to new ideas and innovations being explored by the country's most successful businesses and start-ups—and how they're working to achieve their business goals.
expert views
Bradley Smith
Co-Founder of BusinessOptics
During his visit to San Francisco, Bradley Smith sat down with SABLE's Dave Kitley to provide his perspective on San Francisco's entrepreneurial ecosystem, South Africa's funding chasm and additional detail about BusinessOptics...
sable blog
Nicholas Haralambous, a serial and mobile entrepreneur, has turned his creative focus to men's socks, founding NicSocks, an online retailer of bespoke men's socks. SABLE was fortunate to get time in his diary to discuss his view on how South African's should overcome their fear of starting their own business, e-commerce as a platform to unlock opportunities...
inspirations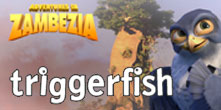 Watch out, Hollywood…South African talent is here! Triggerfish is bringing a unique, homegrown perspective to create character-driven, universal stories from the heart of Cape Town. Its first release, Zambezia, is a full-length feature celebrating diversity and community. Triggerfish has a vision of creating a strong and competitive local animation industry in South Africa, co-founding the first national animation body, AnimationXchange, which has over 2,000 members across southern Africa.