December 18, 2013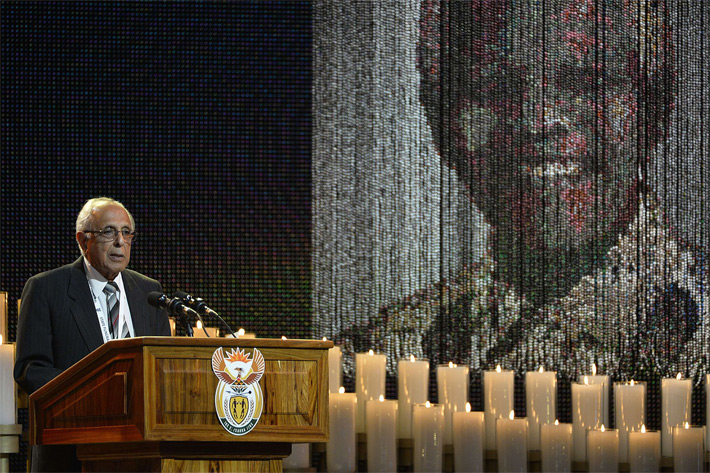 A SENIOR policeman sagged, weeping, into my arms...
Rowan Philp
A SENIOR policeman sagged, weeping, into my arms as the lone jet broke from the fighter formation above Mandela's grave.
Visibly surprised by his own tears, Sipho Mkhwanazi - a Principal Inspector for the KwaZulu-Natal Traffic Police – gasped "my God he's really gone; he gave us everything we have."
For a moment echoed in dozens of hugging or silent groups on a cow field opposite Mandela's state funeral in Qunu, this muscle-bound policeman forgot the rules about talking to the media and called me "brother", and I – weeping in turn – forgot journalistic rules, and held on to him.
One of a heavy brigade of KwaZulu-Natal police and paramedics in Qunu, Mkhawazi – nephew of Don Mkhwanazi, the co-founder of the Friends of Jacob Zuma – managed to get these words out: "Ahmed Kathrada's words at the funeral were so powerful, and the guns – the sound of the guns made me realize this is history, man – my history.'
In the most personal eulogy delivered at yesterday's historic state funeral, Kathrada – Mandela's oldest friend – had told 4500 dignitaries from about three dozen countries of his final meeting with Madiba in hospital: "He tightly held my hand – it was profoundly heartbreaking. . . . I recalled the boxer; the prisoner who easily wielded the pick and the shovel when we could not. . . . Now I have lost a brother. My life is a void and I don't know who to turn to."
And in a last minute moment of reconciliation, Archbishop Desmond Tutu was welcomed to the event by ANC members of the funeral committee, after he had been excluded from the guest list and appeared to have been snubbed. On Saturday night, Collins Chabane, minister in the Presidency, backed the government out of a potential image disaster by pointedly announcing that all VIPs from the FNB stadium memorial event – which included Tutu - would be "welcome" to the funeral.
Regal in black silk head dresses, Mandela's widow, Graca Machel, was stoic and occasionally tearful, while Winnie Mandela appeared relaxed; chuckling at stories told by his granddaughter Nandi Mandela about Madiba' early battles with pride and western etiquette.
Despite over-formal and repetitive protocol greetings from the speakers – and reports of both profiteering and crowd no-shows at some public viewing events - Mandela received a soaring and largely smooth send-off.
President Jacob Zuma won praise even from some critics for turning his eulogy into a public vow to recommit the entire government to achieving Mandela's goals for greater opportunity, accountability and equality.
"South Africa will continue to rise . . .we will strike a decisive blow against persistent poverty, unemployment and inequality, and become a global force for social and economic leadership (because) we dare not fail you," said Zuma.
Durban couple Linda Bukhosini and Bongani Tembe – respectively, the CEOs of the Playhouse, and the KwaZulu-Natal Philharmonic – were chosen as the soloist singers for the event, and told The Witness they had been "supremely honoured" to have performed for Mandela five times in life as well.
But Bantu Holomisa's claim from the podium – that Mandela was "even now" achieving greater unity for South Africans than "at any point in history" appeared to true outside the purple and gold grandeur of the funeral marquee, at least among nearby mourners.
In the field opposite the white funeral pavilion – where friends like Oprah Winfrey and Richard Branson mixed with family and African leaders - children, police colonels and cattle wandered freely behind Upper Qunu' tented funeral viewing area, where hundreds kept one eye on the military show at Mandela's house and the other on a big screen.
Behind us, two Qunu friends – Bongi Ndambiyana, 27, and Kayakazi Ncwana, 29, wore South African flags as huge hair pins, having been given the day off from the respective job s at Boxer supermarket and Mr Price. Ndambiyana told her friend: "I don't ever remember being together like this," and explained to The Witness: "'Normally blacks and whites, if they are ever together in the Transkei, sit in their own sections, and even among blacks - the amaXhosas, the amaPondo; the amaGcaleka; they tend to sit there and there. Today we are all together – we are not used to this, but it is wonderful – it is what Madiba would want."
Even sitting in the shade on the hillside 400 metres away, men removed their caps as the final prayer was said, and again when Mandela's coffin was lowered into what Bantu Holomisa described to The Witness as "his final house".
There was a scramble to the edge of the hill as three helicopters began the flypast salute – the same hilltop where Mandela once "knocked birds from the sky" with his slingshot, and moulded cattle from clay.
A roar of excitement turned into a collective gasp of wonderment as the single Gripen jet which had bolted from its formation into a vertical climb appeared to vanish into a large white cloud; no one from the hill saw it reappear.
The moment became almost absurdly perfect as two white birds suddenly flew from the aloes right in front of us, and Mkhwanazi and I chuckled through the tears, and villagers pointed them out to their children.
Back at the Nelson Mandela Museum, the tears flowed again - as we saw that a child had written these simple words among the detailed formal messages on the tribute wall: "Thanx I'm born free."
We get separated, but Mkhawanazi later makes a point of stopping his police car next to me to wish me well, and - although the "my brother!"of the earlier emotion has changed to an every-day "my broer"- he offers his personal phone number.
And as the massed military convoys and VIP buses leave Mandela's final resting place, I realize that it's not so strange after all; that, thanks to the man we saw buried, the policeman and I have already been brothers for 19 years. In his final act, Mandela just reminded us of the fact.

Rowan Philp served as Chief Reporter and Foreign Correspondent for the Sunday Times in South Africa for most of the past decade—a period broken by stints at the Washington Post as Deputy News Editor; a Harvard/MIT fellowship; and two years as London Bureau Chief. Previously, he was based in Boston and served as the North American correspondent for the Sunday Times and Mail & Guardian, reporting on South African expatriates and diplomats, as well science and innovation. He isa currently chief reporter in South Africa for The Witness daily newspaper of KwaZulu-Natal and Media24.