Steuart Pennington
CEO , South Africa - The Good News
"So much style without substance
So much stuff without style
It's hard to recognise the real thing
It comes along once in a while
Like a rare and precious metal beneath a ton of rock
It takes some time and trouble to separate from the stock
You sometimes have to listen to a lot of useless talk" – Neil Peart in Grand Designs.
It is not only South Africa's sport that is on a slippery downward slope in world rankings; the Springboks lost to Japan in the World Cup, Bafana is 75th in the world and our netball has slipped to fifth in the world.
Similarly, our economic rankings are also heading in the wrong direction, from the ease of doing business to our position on the World Economic Forum's competitiveness rankings.
Actually, in this year's WEF Global Competitiveness Report our ranking improved 7 (seven) positions. In respect of ease o0f doing business we are ranked 38/140 countries, down from 34/133 countries in 2009.
Even our highly-rated universities are slipping on international quality rankings. In fact, over the last two decades, we have fallen from the top 30th positions on international rankings to between 40th and 50th, and in other instances… even lower. Gone are the days when South Africa was in the top quarter or even the top third. Those days are now the heydays.
Actually, in the QS report ranking 20 000 Universities globally SA has 9 ranked in the top 4% (ie in the top 800) up from 6 in the top 4% a few years back. True UCT, our top ranked university, has fallen somewhat from 141 to 171st, but a number of others have improved (see below).
QS World University Rankings 2015/16 - South Africa

2015

2014

Institution Name

171

141=

UNIVERSITY OF CAPE TOWN

302

390=

STELLENBOSCH UNIVERSITY

331=

318=

UNIVERSITY OF THE WITWATERSRAND

501-550

471-480

UNIVERSITY OF PRETORIA

501-550

601-650

RHODES UNIVERSITY

551-600

501-550

UNIVERSITY OF KWAZULU-NATAL

601-650

601-650

UNIVERSITY OF JOHANNESBURG

701+

NORTH-WEST UNIVERSITY

701+

UNIVERSITY OF THE WESTERN CAPE
But the real number that should get the attention is that which shows how South Africa is getting poorer. Not in absolute terms, but relatively speaking. In 1990 the average per capita income was ranked 50th in the world, but this has slipped to 77th in 2013.
Last year was a disaster and SA dropped nine places to 86th place. Today the average Chinese citizen and the average person from Azerbaijan; Turkmenistan; Belarus and Bulgaria are all richer than the average South African.
This is correct, in a survey of 185 countries, we are one place behind China, and a few places below the above. Is this not largely because of the devaluation of the Rand, as all the figures are measured in US$?
In fact, South Africans are now in the bottom half of the world in terms of income. On a per capita basis, the average South African earns only 63% of the average world citizen.
I'm not sure being placed 86th out of 230 countries in the world means that we are in the bottom half?
New data from the World Bank shows Chinese income overtaking our income, both in purchase power parity and market income terms. It is also evident that if South Africa cannot improve efficiency levels and commodity prices continue to fall, we may find ourselves on the wrong side of the 100th position in 2020.
In 1994 South Africa was the 25th biggest economy in the world. By 2014 we had slipped to the 33rd position and there is a good possibility that we will soon be surpassed by Denmark; Malaysia; and Singapore. If our current weak growth performance and the slide in the exchange rate of the rand worsens, it is also very likely that South Africa will no longer be in the top 40.
The Economist (2015) ranks us as 25th on the basis of purchasing power parity and 29th in respect of GDP.
Falling out of the top 40 largest economies is serious as many big companies only look at the top few markets to invest and sell in.
Generally these declines are not sudden, but this does not go unnoticed. South Africa's attractiveness as an investment destination will slowly start to disappear while we also lose our relevance on the political radar.
Agreed, FDI has levelled off due to government policy indecision.
This makes it all the more difficult to turn around the downward trajectory of economic growth. It not only becomes more difficult to retain sport talent, but also to retain our top scientists and entrepreneurs. Academics also look for greener pastures, and our top students follow suit.
According to the Global Competitiveness Report our capacity to 'attract talent" has improved, we are currently placed 41/140
Foreign investment then dries up. South Africa will become much less of an investment priority and when the Department of Health bullies another pharmaceutical company who wants to do business, they are likely to go elsewhere.
They will run even further in the opposite direction when our politicians and protesters continue to praise countries and rulers who have economically enslaved their people.
The reality is that South Africa's economic cupboard of ideas is empty. One top firm after another is chasing opportunity elsewhere. Our top 60 companies now earn 70% of their turnover outside of SA borders. In effect, they have left and South Africa is just another market.
BMW doesn't think so.
By most standards South Africa is not sitting at the main table anymore. We are actually fighting for the crumbs.
Remember it took 15 years of growth at 11% plus for Ethiopia to rise from the poorest country in the world to become only the eighth poorest. Zimbabwe fell 20 places in the same time.
It is so much easier to become poorer than richer.
But spare a thought for Zimbabwe, which could be seen as a benchmark South Africa needs to stay away from.
At independence Zimabawe was in the 67th position and firmly in the top half of the international rankings. The country is currently in the bottom 22 and is the worst performing country in the history of the modern world.
Why then do we constantly compare ourselves with Zimbabwe when we are in the Premier League of Nations at 49/140, and Zimbabwe is at 125/140?
Today the average Zimbabwean dies earlier and is hungrier than in 1980!
It is indeed much easier to get poor than to get rich.
The tables below indicates where we do best and worst in this year's Global Competitiveness Report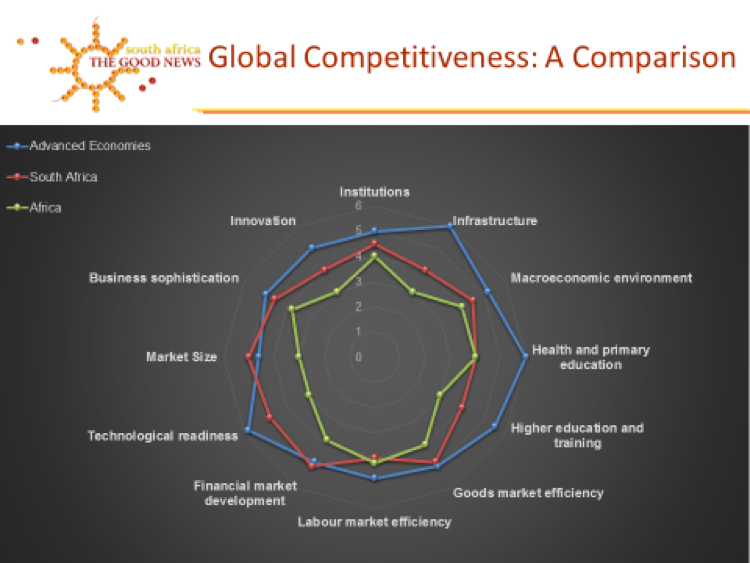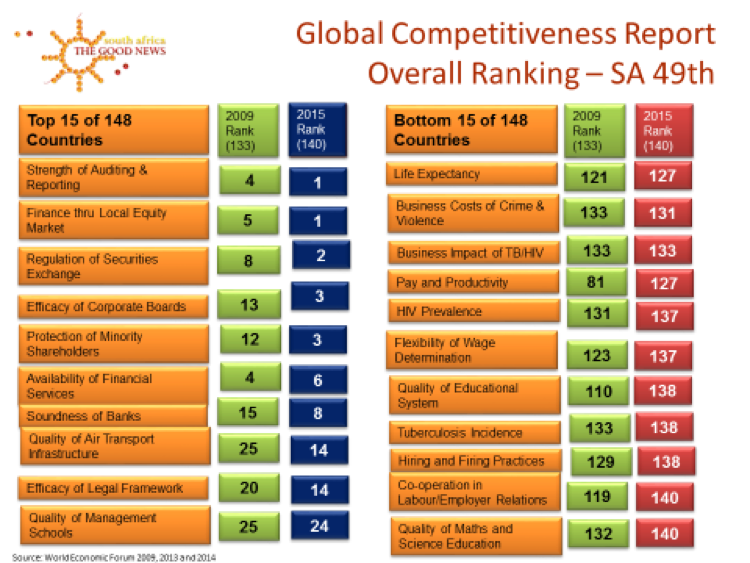 Conclusion.
These discussions are difficult, we all know the 'lies, damn lies, and statistics' quote, and probably the 'everyone is entitled to their own opinion but not to their own facts' quote.
I think it is a question of balance, responsibly focussing on the good with the bad.
As Max du Preez reminds: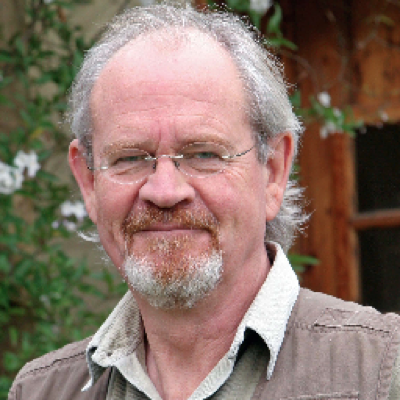 "We heard a lot of grumbling from middle-class black intellectuals and professionals about white supremacy, inequality and so-called decolonisation recently. And yet the establishment of a significant black middle and upper middle class over the past two decades has been spectacular and unprecedented.
The number of black people earning more than R400 000 per year grew by 1 000% from 120 000 in 2000 to 1.2 million in 2014. Nine out of ten of them are in the private sector.
The black middle class grew 300% from 1.8 million to 6 million during the last decade.
In the five years between 1996 and 2011, black disposable income grew 370% from R161 million to R756 million – significantly higher than total white disposable income.
Today, more black homeowners are paying off bonds on their properties than whites. Twenty-one years ago black people could not own property.
Nine out of ten black households have at least one cellphone.
Private schools are 72% black.
Since 1996, black people living on less than $2 a day has fallen from 16% of the population to 2,5%.
We have extraordinary energy, vitality and goodwill in SA.
We have civil society organisations like Equal Education, Freedom Under Law, Right2Know and Abahlali baseMjondolo.
We have a vibrant and innovative business sector and leadership, such as in the farmers' community (agriculture will lead land reform).
In the charity and welfare sector we have churches, NGOs, the Rotarians, Lions clubs, women's organisations, Gift of the Givers and many more.
Our energy problems are almost over – it's been nearly three months since the last load-shedding.
How do we drastically reduce inequality? Through wealth taxes, faster land reform and redistribution, says economist Thomas Piketty. Listen to him – but I would argue that his ideas go hand-in-hand with the imperatives that we have more efficient government, better education, more funding for students, less corruption, more cohesive policies, and fewer grand schemes.
Imagine a post-Zuma South Africa, a changed political environment of perhaps coalitions ruling in provinces and local councils, clear economic policies and a more efficient and accountable civil service.
I can realistically imagine an SA in the not-too-distant future with a 6% growth rate, an exchange rate of R10 to the US dollar, declining unemployment, a transformed education system and a new optimism replacing anger, intolerance and depression.
I can imagine a time soon when we South Africans can hold our heads high again in the world as we did immediately after 1994.
That's the SA we should work hard for. I want to be part of that SA and the battle to get there.
About Steuart Pennington
''Africa – the Good News'' is unlike the countless books that try to explain what went wrong in Africa. The book looks at what is going right. It gives voice to Africans and (non-Africans) who have a different story to tell to the commonplace one of hopelessness: it tells the tale of the African dream becoming the reality. It explains why a growing number of investors, journalists, and academics are starting to look at Africa differently and describe the continent as one of growth and opportunity and not just of diseases and despair. At the same time, it does not shy away from what still needs to happen for the 21st century to indeed be Africa's.
Steuart has done some 500 talks on South Africa's progress since 1994 and SA's prospects for the future
« Back to Expert Views Listings
Other Expert Views:
Q&A with Bernard Wolfsdorf , Founder & Managing Partner, Wolfsdorf Immigration Law Group
Q&A with Pieter van Schalkwyk, CEO, XMPro
Q&A with Mike Schüssler, Chief Economist, Economists.co.za
Q&A with Pumela Salela, SABLE Advisory Board Member, Global Sourcing Council
Q&A with Prof. (JD) Jonathan Jansen, Vice-Chancellor and Rector, UFS UV
Q&A with Pieter de Villiers, Founder and CEO, Clickatell
Q&A with Anthony Stonefield, Managing Director, Gramercy Millennium Group
Q&A with Pumela Salela, SABLE Advisory Board Member, Global Sourcing Council
Q&A with Crunch Time for China Boosts South African Fruit Industry, Charles Hughes, Managing Director of Fruit Marketing, Tru-Cape
To Become a Superstar, Improve Your Strengths (Not Your Faults), Auren Hoffman, CEO, LiveRamp
Q&A with Faheem Kajee, Co-Founder, Found (Previously Pashash)
Q&A with Jake Davidow, Founder, Teach Me Sushi and Teach Me Chocolate
Q&A with Eran Eyal, Co-founder, Springleap
Q&A with Bradley Smith, Co-Founder, BusinessOptics
Q&A with Nick McCreath, Co-Founder, Super Simple Survey
Q&A with Gary Boddington, Co-Founder and former Executive Vice President and General Manager, Alchemex Pty Ltd, acquired by Sage in October 2011
Q&A with Barry Kayton, Founder and CEO, Cognician
Q&A with Michael Leeman, Entrepreneur and Investor, RunwaySale, Gyft and Miombo Consulting
Q&A with Piet Barnard and Dr. Andrew Bailey, Piet Barnard, Director, Research Contracts and Intellectual Property Services, UCT and Dr. Andrew Bailey, Intellectual Property Manager, Research Contracts and Intellectual Property Services, UCT
Q&A with Anita Nel, CEO: Innovation and Business Development, InnovUS, Stellenbosch University
Q&A with Sam Paddock, Founder and Co-managing Director, GetSmarter – High-Touch Online Education Company
Q&A with Laurie Olivier, Partner - 4Di Capital, Board Member and Chairman, HealthQ Technologies
Q&A with Kirsten Leute, Senior Licensing Associate, Office of Technology Licensing, Stanford University
Q&A with Spencer Fleischer, President, FFL Partners – Venture Capital and Private Equity (San Francisco)
Q&A with Stephen Bell, Biologicals, Vaccines & Pharmaceuticals & Trade Commission Trustee, Federal Trade Commission
General Counsel: Accelerating Growth, Minimizing Risk and Protecting Businesses, Stuart Blake, co-founder and partner of InnovaCounsel and David Blackwood, partner at InnovaCounsel
What You Know Now Beats Who You Know, Auren Hoffman, CEO, Rapleaf
Q&A with Devin Drake, CEO, Virtuvent
Q&A with Vinny Lingham, Advisory Board Member, SABLE Accelerator; Co-founder and CEO, Gyft; Founder and Board Member, Yola