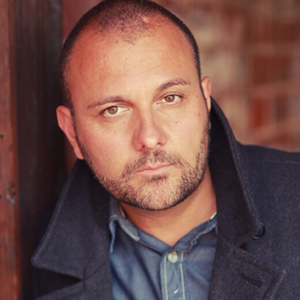 Actor Producer Stelio Savante Boosts a Deeply Challenged Tide of South African Actors to Hollywood
Savante tells SABLE that SA actors increasingly require networking resources and new skills in Hollywood, as the Rand currency and teaching levels decline "back home"
By Rowan Philp
Stelio Savante is the networking dynamo at the hub of the South African community competing for stardom in Hollywood.
But the prolific, award-winning actor and producer told SABLE that he has deep concerns over the impact of the collapsing Rand and of poor teaching skills on actors still developing their careers in South Africa.
Savante – who was the first male South African to win a Screen Actors' Guild nomination – has played opposite U.S. icons like Samuel L. Jackson and Susan Sarandon, and will soon be starring alongside Kathleen Turner and David Morse.
In 2014, he was named Best Actor at the American Movie Awards for his lead role in Once We Were Slaves.
But he says that, as a producer, he actively seeks out opportunities for a growing tide of South African actors – and that their entry needs echo those of South African entrepreneurs entering U.S. markets: active networking, collaboration and on-the-ground expertise.
"It's not as though we have 10 or 12 A-listers, the way the Brits and Australians do – we South Africans are a fairly tight-knight community in Hollywood, and we work in spurts, so networking is critical," says Savante. "I'm constantly bringing South Africans into the projects that I do; there were 6 or 8 who came over just last year that I was in contact with. Just last week, I was setting up meetings for Kim Engelbrecht, the wonderful actress from the Dominion series – she's on her way to the U.S., and also wants to meet with my dialect coach. That's a smart move. I collaborate with the brilliant South African director Rudolf Buitendach all the time – one movie we did together, Selling Isobel, is now in post-production, and we'll be doing a new movie in the fall."
Although perhaps best known popularly for his starring role in the hit TV series The Making of the Mob, Savante has racked up broad critical acclaim for character acting roles in movies like A Million Colours and Where the Road Runs Out, as well as on popular TV series like Ugly Betty.
Meanwhile, among actors, he is rapidly cementing a reputation as the champion of the theater world's response to the 9/11 terrorist attacks, which he witnessed directly. In addition to being featured alongside Bruce Springsteen and others in a major documentary about the cultural response to 9/11, Savante produced and starred in the iconic play to mark the 10th anniversary of the attacks – called 110 Stories. He will soon be starring in another Broadway play on 9/11, called Jeremiah 5:1, opposite Kathleen Turner, whom he brought in for the role. In keeping with his appetite for complex and conflicted characters, he will perform the true-life role of a terror suspect who undergoes intense inner struggles, as law enforcement officers seek to recruit him as a double agent.
He will next be seen on the big screen in a major family movie by Lionsgate, Army Dog – which is already a top-trending film on VOD – and in the biopic Eisenstein in Guanajuato, which has attracted a major award nomination at the Berlin International Film Festival.
Savante's work rate is now up to half a dozen major projects per year, for stage and screen – where he also often serves both as actor and producer.
Remarkably: this prolific output coincides not only with his long-standing battle with Celiac disease, but also with a newly diagnosed disorder called Hashimoto's Disease – an immune system illness which also triggers depression.
Savante told SABLE that his work rate was partly because of these illnesses – rather than despite them – as he has found that the focus on his acting craft helps keep the symptoms at bay.
"Its been a tough few months, in terms of illness; I've had a ton of people praying for me," he says. "But I've found that as long as I'm focused on my character role, and not on Stelio, I can stay ahead of it; the work really helps."
He adds: "I love the work – especially the roles which appeal to me personally, or which deal with a human rights issue or examine the every-day heroism or challenges from an event like 9/11. I am producing more and more, so one hand helps the other: before you know it you're averaging 6 or 7 projects a year. I am represented as an actor only, and I'm grateful to have really great representation. But when I'm cast, I might have a meeting with the director and producer and ask them if there are perhaps a couple of names they'd be interested in, who are friends of mine or who I think could add to the project, who can come on board. So I'm a producer on the talent side, not the financing side."
Of the more than one hundred successful South African-born professionals this writer has interviewed in the U.S., Savante is among those who stand out for their astonishing generosity of spirit, and their honest fidelity to their roots.
Like surfing legend Shaun Tomson – who is dedicated to empowering youth in both the U.S. and South Africa with life-saving decision-making tools – and Dr. Mankekolo Mahlangu-Ngcobo, who champions human rights causes in both countries, both great and small, Savante's commitment to truth and authenticity have remained profoundly unchanged, even as his skills and acclaim have soared on the biggest stage.
You see it in the characters he plays; in the opportunities he creates, unsolicited; in the casual but courageous candor of his interviews. As a beacon for burgeoning South African actors to follow as they look westward, it is somewhat removed from the searchlights of Academy Awards glamor, but is perhaps a better kind of bright.
Savante says incoming actors could benefit from the linkages and advocacy of established U.S. networks for South African talent, such as the SABLE Accelerator. He says mentorship from established producers and actors in Hollywood is increasingly important, partly because of the poor standard of training and preparation within South Africa's domestic film industry.
"Casting directors encourage newly located South Africans to focus on character work, as opposed to auditioning the way they think the character should be played. We hear the same thing all the time: 'There is a lot of raw acting talent back in South Africa and some great talent, but the cinematographers and the crew that work on these series and movies in the Cape are generally a lot more skilled and professional than the actors – who typically are not strong. That's partly because acting teachers in South Africa who can actually teach relevant skills are few and very far between."
Savante says he is also concerned for the future of the film industry itself in the Cape Province. "A lot of productions coming in are getting fed up with load shedding – though a lot of them have generators on set, the production office often can't function and do the administrative side. We expats in LA are very proud of our home country. But, frankly, I'm terrified for what the future might hold for the film industry and tourism in the Cape Province if there is a change in political leadership and governance there."
Meanwhile, the Cape Town-born star says the collapse in South Africa's currency in the past two years represents a direct threat to promising talent, and to the through-put of breakthrough South African stars in Hollywood. "A lot of South African artists back home are starting to get very nervous – simply because the currency is getting worse and worse. It's hard enough being an actor there, and needing a second job to pay the bills – but their acting paychecks are rapidly becoming worthless; certainly, as a resource to leverage an international career.
Having previously encouraged many actors to remain in South Africa, Savante admits that he is increasingly encouraging talented artists to gear their careers toward the U.S. stage. "Look, it is very tough here when you first arrive. Frankly, it's a different ballgame; the quality of competition is so much higher. But coming here gives them a great opportunity to study with good teachers, to learn on the job, and to compete at a level they haven't experienced before. There are South African actors here who are not known in South Africa itself, but who are getting more and more work. And the learning of the craft never ends, and it is wonderful. I recently did a movie – Eisenstein in Guanajuato – under the legendary director Peter Greenaway. The film has been a huge, huge success. At the age of 73, he can do things that directors half his age can't do. What an experience to work with him."
Savante says South African talent is steadily making an impact in all three acting mediums. "I brought in Sal Masekela in as my narrator for 110 stories in 2013, and I also brought in Rudolf Buitendach to direct – those kinds of collaborations are so rewarding," he says. "I was also in a movie that Rudolf directed that was the first feature ever to shoot in Equatorial Guinea, so we're breaking new ground. I'm also very excited about our new movie – Selling Isobel – which is the true story of a woman who was kidnapped and used as a sex slave; an incredible provocative and important story."
Savante is drawn to roles and scripts that serve to enlighten, provoke or explore compelling issues relevant to society – and he admires those artists who have added to the craft in those areas.
He says: "When I think about the work I admire, it's not the work of movie stars like Ben Affleck; it's the work of great actors – like Vera Farmiga, or Viola Davis, or Javier Bardem, or Toni Servillo, an incredible Italian actor who was in The Great Beauty, which won an Oscar for Best Foreign Film. Or Daniel Day-Lewis. For me, its a lot more about the craft than the goldfish bowl and the perception of fame."
Bio
Stelio Savante is a South African born New York actor, producer, and writer living in the United States. Born in Cape Town, this New York actor and SAG nominee is one of South Africa's most successful exports. Has been a steady product of lauded independent and foreign features that have been distributed worldwide. In 2007 he became the first male South African born Screen Actors Guild nominee for his recurring role on Ugly Betty. He has also received outstanding critical reviews for his portrayal of a ruthless policeman in the South African film A Million Colours, and for his role as a Jewish prisoner in Once We Were Slaves; winning Best Actor at the prestigious American Movie Awards, the SOFIE Awards and IndieFest. Throughout his career, he has worked with some of the most respected names in film, television and on stage.