EXPAT PLANS TO HELP SAVE THE WHITE RHINO ARE GAINING STEAM
By Rowan Philp
The audacious plan by a South African ex-pat businessman to save the white rhino has moved from a news curiosity to the brink of historic reality. This summer, Ray Dearlove's project to relocate threatened wild South African rhinos to a safe breeding zone in Australia—and then repatriate them home when its safe—received a standing ovation from a major TED audience at the Sydney Opera House. His presentation on the successful progress of Australian Rhino Project followed the poaching of over 1,300 rhinos in 2015 and a 5% decline in the total population since 2010, due to an unabated demand for illegal rhino horn products in Southeast Asia. With three rhinos killed each day and the deaths-to-births tipping point now breached, new projections suggest that the southern white rhino could face extinction in the wild within 10 years. Meanwhile, the northern white rhino did become effectively extinct this year, with just a few female individuals now alive.
Dearlove also generated gasps from the TED audience when he revealed that international crime syndicates themselves now fully anticipate that rhinos will become extinct from their own actions – and are hoarding horn to sell onto the market at even higher prices when rhinos are gone. Like Doctor Ian Player –the man credited with saving the white rhino in the 1960s– Dearlove is an alumnus of St. Johns College in Johannesburg. Player was supportive of his friend's maverick campaign. Dearlove –a former IT executive and rugby aficionado— told SABLE that the plan is to move 80 white rhinos from South Africa, over a four-year period, in order to enable a suitable wild space at the Western Plains Zoo. Once the sustainable breeding herd is formed, then they can repatriate at least that same number back to their wild habitat in Southern Africa once the extreme poaching threat has passed. He says the wild herd could reach about 400 by 2040.
"This is not the answer, we know that," says Dearlove. "But it is an answer at a time when any workable answer is critical. Australia will be an ideal host to an insurance population for this iconic species."
Having emigrated to New South Wales in 1987, Dearlove has served in senior sales management roles for major IT companies, while also serving as a rugby manager for teams including the Brumbies – where he served alongside legendary coach Jake White. After three years of planning and fund-raising, the Australian Rhino Project has not only achieved the required non-profit charity status, but also identified a source of rhinos; secured in-principle agreements in both countries; and developed an affordable relocation plan, at about $75,000 per animal. Experts say the project is well-positioned to earn CITES permissions, when that stage is reached. Government permissions – particularly on biosecurity assurance – remain the chief hurdle, while the project is also seeking an airline partner for the moves. "The Australian government is absolutely – and I mean absolutely - focused on the biosecurity in this country, and I understand that," he says. (He reminded the TED audience that Johnny Depp discovered that fact to his cost, after trying to bring his dogs into the country).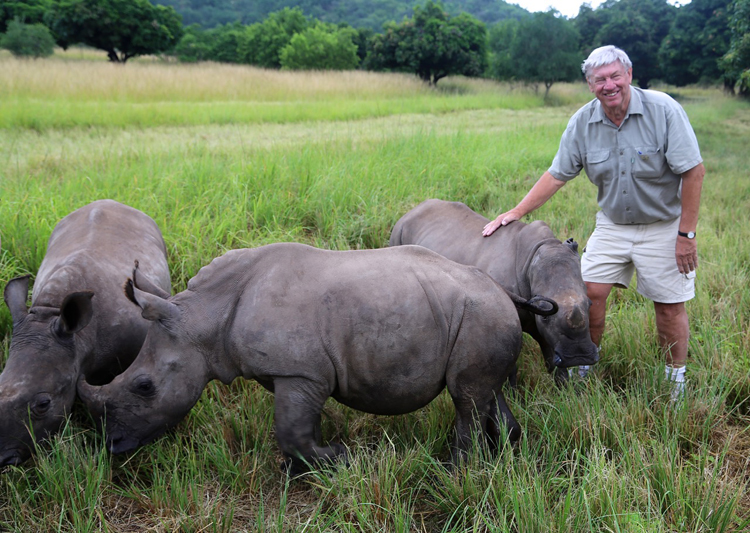 "Australia is an island, and a lot of free trade agreements depend on guarantees of disease-free animal stock here," he says. "So the guys at the Department of Agriculture here are tasked with making sure there is no risk to the flora and fauna of Australia, and we support that. Fortunately, rhinos are not as susceptible to some diseases in the way that buffalo are, for example. "Once they are satisfied that there is no risk, or at least a manageable risk, I am confident they will give the go-ahead, and then we will go ahead with the CITES permits. It will be a darn good story for the Australian government and everyone else to say we made it possible to contributing to save an iconic species from extinction in the wild."
Dearlove says the Project has established sources of reproduction-able rhinos and orphans from private game owners in South Africa—many of whom are under siege from poachers, and forced to spend a fortune on security. By contrast, following a successful relocation, he sees significant eco-tourism benefits both for the host organization and society in Australia. Hopefully, the hoard of global travelers will literally reward all parties for their efforts with their tourism dollars. Most importantly, wild southern white rhinos would be assured of survival.
Dearlove would gladly halt the project if any existing strategy to protect rhinos had a realistic chance of success. He says the most credible data models are clear that none of those initiatives –from legalizing rhino horn trade, to enhanced law enforcement, to internal relocations to "Intensive Protection Zones"– can prevent the higher deaths-to-births ratio, and the ultimate decimation of the species. The poachers are remarkably well funded and well organized. "The late great Ian Player was a wonderful supporter of this project; his belief always was to spread the risk. That is what we have to do again," he says.
In the 1960s, Player led an effort to safely dart and relocate rhinos to other reserves from their small sanctuary in the Mfolozi Game Reserve, in order to expand the gene pool and protect against any localized disease or poaching disaster. Rhino numbers climbed from 600 to a high of 20,000 before collapsing once again under the recent poaching onslaught. Dearlove says, "The majority of the onslaught in South Africa has been into the northern part of the Kruger National Park from neighboring Mozambique, which is the seventh poorest country in the world. One strategy has been to move the rhinos to the south of the park, into so-called Intensive Protection Zones; however, poachers have responded by attacking elsewhere –the number of rhinos poached in KwaZulu-Natal has just jumped massively. They hit six rhinos just last weekend in the Mfolozi reserve alone– and that's the cradle of Southern White and Black rhinos in the world. Plans to legalize the trade in rhino horns will fail."
Despite the regular criticism they have attracted from some animal rights activists and conservation groups, Dearlove says he has found sincere concern and a grasp of the urgency in conversations with senior officials within the environment and tourism clusters. He says, "Everyone has a go at the government in South Africa, saying: Why aren't you fixing the problem? My sense is that no government could stop the poaching problem there. On the one hand, the resources fueling the demand is irresistible, and on the other, the problem affects numerous countries and is a regional political issue on both the supply and demand side. You would have to involve and commit numerous countries right across Africa. And on the demand side, you'd have to sort it out with the governments in China, Vietnam, Laos, Cambodia and Thailand."
"There is agreement that the trade in rhino horn is illegal; that's not the problem. It's a commitment to urgently doing something effective in partnership that is needed,'' he says. "At the moment, as per CITES agreements, white rhinos can legally be exported out of South Africa, and they are. They go to foreign zoos, collectors, or safari parks. I fear there may come a time when it will be illegal to move them even to safety, that the government may classify the animal as a national asset, so moving them will become illegal. That is another reason for our project to move ahead urgently."
Dearlove says 80 rhinos could be fully relocated over four years for a total of about $8 million. "In terms of everything from locating them, to dart and capture, transport, quarantine, flight, quarantine again, and road transport, we calculate the cost would be about $75,000 per animal," he says. "One asks oneself, what price should be paid to help prevent the extinction of a species in the wild? Most people have the view that this is an astoundingly affordable figure to save any species, let alone an iconic large animal species. If we can do this thing well, and offer an environment that will facilitate breeding, it's a conservation model that could rock the world."
Dearlove says he is aware of no comparable intercontinental effort to relocate a species to a safe zone. "The Tasmanian Devil species had a virus that was killing them, and despite considerable opposition, some of these small animals were relocated to the mainland. They have established several colonies and they have done very well indeed. That is the only example I can think of."
Having spent most of my own reporting career in South Africa, I have had the privilege not only of experiencing half a dozen 5-day wilderness trails in the Mfolozi, but also of spending time with Ian Player. Despite his gruff demeanor, I remember how Player's face shone when wondering aloud, for instance, why white rhino calves walk ahead of their mothers, and how they know where to go in leading. I remember coming upon three rhinos in Alicedale, in the Eastern Cape, and confidently telling the friends in my car that because they were white rhinos, they would not charge. Their prehistoric heads brought to mind grey sleeping bags filled with oblong concrete blocks –utterly angular and heavy– with a pair of horse ears stuck on top. Well, the car was a grey Alfa Romeo, which those rhinos apparently mistook for a rival rhino, and they proceeded to chase my rapidly reversing vehicle not only back down the road but also over some railway tracks and into a rangers' compound, where we were trapped. It was a scary experience, but also awesome, and deeply humbling.
Dearlove reminds us that without an urgent intervention, even simple experiences like these will be denied humanity forever. He has his own treasured memories of creatures he first saw as a child in the Kruger: "I remember being struck with just how huge the animal is, and how old. It is the closest mammal to a dinosaur you or I would ever see. Apparently they have been around for 50 million years. As a kid, I was struck by just how different, otherworldly the rhino is. Let's keep them safe."