HOW SA LEGEND SHAUN TOMSON IS BUILDING A GLOBAL WAVE OF HOPE
Having inspired a second generation of youth – and a new generation of business leaders - South Africa's surfing icon plans to trigger a global movement through the power of 'I Will'
By Rowan Philp
Having surfed the world's greatest waves to victory, a legend of the sport is now building a wave – a global swell of positive commitment, which he believes will improve and even save lives, and have the same effect for businesses.
One of the 10 greatest surfers of all time, South Africa's Shaun Tomson is the founder of the iconic "I Will" positivity campaign – and he is now channeling this philosophy into a triple "LifeCode" tsunami of creativity, revenue and peer inspiration.
The former World Champion currently speaks directly to 100,000 people each year – from school halls to corporate boardrooms – and reaches many more through his books and social media.
He is the founder and former CEO of two global lifestyle brands – Instinct and Solitude – and, more recently, has served as an inspirational speaker on leadership for companies like GM, Cisco and Gap.
In the US, highly innovative companies like Sonos and Alphaeon Lifestyle Healthcare – as well as leading South African companies like Cavi Brands – have integrated Tomson's approach to committing to positive written principles into their leadership strategies, on behalf of customers and stakeholders.
Having tragically lost his beloved son Mathew to a dangerous teen choice in 2006 – the kind of high risk behavior which claims the lives of some 25,000 American students each year - Tomson developed an astonishingly simple, and powerful, tool for navigating life's challenges. It involves writing down a dozen powerful promises to oneself, beginning with the phrase "I will . . ."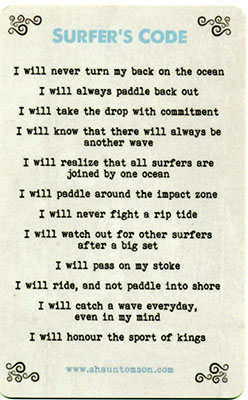 Endorsed by one of America's leading pediatric psychiatrists – Michael Weitzman, Professor of Psychiatry at the New York University School of Medicine – and now embraced by thousands of parents and young people on multiple continents, "The Code" is simple and free, yet it amounts to nothing less than a personal Constitution – with all the affirmation that represents.
As Weitzman and other experts understand well: its very existence on paper represents a new basis for self-respect, purpose, self-forgiveness, and better choices.
Weitzman states: "All adolescents, all parents, and better still all adolescents and their parents together would do well to . . . ponder the inspiration" of Tomson's conceptual gift. Harnessing the almost mystical power of the written word, The Code, Tomson says, begins to generate its own energy; to actively conspire with a positive future.
Tomson's approach has already inspired the world in innumerable ways, from corporate strategies to funding for the teen mentorship program Boys to Men; to the choice, even, of the first name for America's snowboarding legend Shaun White. And the Olympic gold medalist exhorts young people everywhere, simply, to "Live the Code."
This week, Tomson told SABLE and BPI about his most ambitious project to date: to provide a simple tool and platform to enable students around the globe to generate creative artwork, viral peer inspiration, philanthropy and income through creativity.
In essence: "LifeCode" invites students to produce inspirational graphic artworks under the theme of "I Will"; to post them on an innovative website designed by Tomson's team; and to promote them to their friends via social media – with t-shirts and other products ordered online; manufactured under environmentally friendly direct-to-garment printing processes, and shipped on an on-demand basis.
"I want to enable people to create inspiring statements about their lives graphically, and create a wave of positive energy that circulates the globe, and which is inspired by the creativity of youth," says Tomson. "I believe in capitalism with purpose, and we'll offer a business model in which everyone in the value chain gains revenue: the student creator; the school; and the promoter – which in most cases will be a fellow student. The revenue part is important – not just because of the obvious benefits for young people, but also because its another way of validating a young person's value for themselves."
Tomson says he's concerned that too many marketing and outreach strategies to youth – no matter how noble – find little traction, because people in their 30s and 40s are inevitably out-of-touch with the teenage world, and because peer-to-peer connectivity through social media is such a powerful force.
"Kids simply think differently – its wonderful, how they engage the world – buts its really only other kids and a few trusted role-models who have any credibility for them," he says. "How can I get young people - the people with this incredible 'life force' - inspiring each other? I'm just an enabler. I want to provide young people around the world with a simple tool with which to spread a wave of positive commitment. I think combining the creativity of graphics with Code statements is very powerful. When you look at the success of Obama's campaign; of old political posters – graphics can transform whole countries to attitudinal change. Its not propaganda – it is symbolism for hope."
Tomson is looking for partnership on the LifeCode project, as "if this wave grows exponentially, as I believe it will, we will need partners to make it happen, and to cope with the scale. We are currently in the development stages."
He says he will consult with network leaders like Donovan Neale-May, Managing Partner of SABLE and founder of the Chief Marketing Officer (CMO) Council and the Business Performance Innovation (BPI) Network. He will also investigate potential collaborations via global solutions platforms like CauseTech, which is a collaboration between the BPI Network, CMO Council, and UNICEF.
Tomson's tool for positivity extends to numerous projects – including his role as spokesman for the hugely successful Boys to Men program, which has helped thousands of mostly fatherless boys make positive changes to set up stable futures.
Last year Tomson helped raise some $370,000 for Boys to Men through his "100 Wave Challenge." This year, he aims to raise $400,000 at the surf challenge on September 19, when 200 top surfers will join in the mass wave riding challenge.
Tomson says he learned that "doing good is good for business" when he took his first job in the US in 1995 – working for Patagonia, under its iconic founder Yvon Chouinard.
"It was one of the first companies to build everything they did in the context of minimizing harm to the environment, and promoting a positive social focus. Yvon was amazing to our family. Later, while studying a masters (degree) in leadership, I found overwhelming proof that you can create competitive advantage by being socially and environmentally minded; that people respond more positively to your brand."
He adds: "I think business can solve a lot of problems in the world – fundamentally, there is this change in how big business is being run: executives are realizing they have a greater responsibility to their stakeholders even than to their shareholders."
This same view is championed by the Director of UNICEF's Innovation Center, Dr. Sharad Sapra, who recently told the BPI Network and the CMO Council of an ever-increasing focus on stakeholders among CEOs, and that: "Through collaboration, we can actually turn whole world around." See more from this viewpoint on CauseTech.
The LifeCode creativity concept was born in Tomson's hometown in South Africa – at the Durban University of Technology, where the icon found enthusiastic support from both faculty and students.
But he says the Code concept itself was born in his adoptive "home beach" of Rincon, Santa Barbara – when, in an off-the-cuff decision, he presented small cards to around 100 school pupils: the twelve fundamental lessons surfing had taught him about life, every line beginning with the words "I Will." He called it 'Surfer's Code' and says that the card ultimately changed his life. "The next thing – moms and dads and friends wanted those cards; there was this groundswell of people willing and eager to commit themselves to surfing's guiding principles, for life."
At a discussion at a local Santa Barbara school Tomson encouraged students to create their own codes. "The personal statements those kids came up with were incredible – totally inspiring," he says.
He recalls one recent presentation in San Diego – "a community event, where a father came up to me to say his 15-year-old son was having challenges, and he wanted him to meet me. And we all know – 15 is such a tough time for kids – the middle of a period of both maximum growth, mentally, and also maximum danger. Well, that kid sent me an email a short time later, saying that the Code "resinatid" with him (I knew he was a surfer right there, because only a surfer would spell resonated like that!). This kid shared his amazing promises with me, and you know what the very last line said? - "I Will live another day." So I know that boy will be okay – because he committed to that; that promise is now part of who he is."
Tomson adds: "It's the same in the boardroom. I recently spoke at a financial conference, involving independent mortgage brokers. A woman there told me: "Shaun, I've been wrestling with this multi-million dollar decision for months, but I've been stuck. Today I paddled over the edge with commitment – I took the drop."
This executive was referencing the surfer's concept of "the drop" – in which surfers must commit to dropping into a wave, in order to rise it, or – in extreme cases – to survive it.
Tomson says: "In my book, I talk about riding the most dangerous wave in the world – the Banzai Pipeline: you've got to attack that drop, or you'll wipe out and die."
When I was 15, and growing up in South Africa, I had three sporting heroes: Gary Player, Graeme Pollock, and Shaun Tomson.
It seemed to me that there were athletes elsewhere who were perhaps more talented – and certainly better coached – than these men, but that all three had nevertheless risen to be the best in the world by sheer force of will, and a singular lack of fear.
Indeed, among Tomson's now famous 12 LifeCode promises are "I Will Never Give Up" and "I Will Face My Fears."
Giants of the surfing world agree that these qualities largely defined Tomson's career, and his hyper-aggressive style on even the most dangerous waves.
But even Tomson – despite that famed inner strength – found himself confronted with dangerous choices as a teenager; some of which could easily have ended his career and even his life.
In his most recent book, The Code, Tomson writes about his near-miss with a disastrous choice, after being offered heroin by a friend, far from home: "I was nineteen years old when 'John' asked me to chase the dragon—to sit down next to him and try what all his friends were trying. I was in Hawai'i, on the North Shore of O'ahu, 12,000 miles from my parents and my home. I would be surfing for the next three months with John and his friends. I wanted to fit in. . . What I did at that moment changed the rest of my life. I watched John inhaling fumes, and I turned away. . . After I got back to South Africa to start my second year at college, I heard John had died of an overdose. What's hard sometimes is recognizing which decisions can change your life. My son Mathew died at home when he was fifteen, playing a dangerous game called the choking game. He was alone. He was a beautiful boy, and I'm sure he wanted to do the right thing and just didn't realize the danger he was in."
When Tomson speaks at schools and colleges, he leaves them with these words: "If there's just one thing you should remember from this message, it should be just these two words: Think Twice."
And the surfer is frequently delighted when young people share their 12-line Code statements with him, and he reads "I Will Think Twice" among their other inspiring mantras.
He told SABLE: "I found people like to hear stories about accomplishment in athletics, because it's a very simple narrative arc, they like to hear a metaphor they can apply to their own lives. Surfing has taught me humility; if you tell a story in a humble and authentic way, its very impactful. And I just love to inspire people."