Iconic South African Sports Commentator Kim Shippey Still Files Stories in the U.S. at Age 80
By Rowan Philp
Many South Africans will remember Kim Shippey as the soundtrack to either the chaos of the rebel rugby tours or to the civility of the Wimbledon finals.
Others will remember Shippey as a pioneer of radio and TV broadcasting in South Africa, having been the iconic host of everything from Sportsvision and Destinations to the quiz show Pick a Box and classical concerts.
But most will simply remember that baritone voice which seemed to be everywhere in the '70s and early '80s, speaking with the same contagious fascination on almost every subject.
Now 80 years old and living in the U.S., Shippey will mark 60 years in broadcasting in November. And he is still working nine-hour days full time, filing radio and editorial pieces for the Christian Science Monitor's channels and periodicals.
The father of five and grandfather of 11 has lived in Boston with his wife, Bobbi, since he left South Africa in 1986. And his has been a career in which, remarkably, its diversity has matched its longevity.
In 1958, it was Shippey—then with the BBC in London—who first announced the tragedy in which eight members of the Manchester United football team and 15 others were killed. Shippey recalls, "For emotional strain, I seldom faced a moment worse than the BBC's decision that, as an impartial South African, I should be able to announce to the world—without tearing up—the news of that plane crash. I went live on the air and lasted 16 seconds before losing it."
While the biggest stars of radio in the U.S. or the U.K. today attract 10 million listeners, Shippey once commanded a nightly audience of 27 million with the BBC World Service and, later, 17 million as an anchor for BBC Television. He has interviewed everyone from Yul Brynner and Jesse Owens to Marlene Dietrich.
Although he describes himself as "non-political," he brought the action and egalitarian ideals of the Olympics to South Africans during the decades of isolation. And it was Shippey who, along with Gerhard Vivier, chose to remain on the air in 1971, when violent sports boycott protesters tried to topple their commentary booth to the ground.
"I handled hard news, sports, film and book reviews, interviews, symphony concerts, and jazz," he says.
If it seems improbable today that a man who writes poetry and values correct elocution could have been the primary voice of alpha-male sports like rugby and motor racing, it seems barely plausible that he once had a late-evening radio jazz program tagged with the words "keep cool with Kim Shippey."
But unlikelier still is the fact that Shippey has had a broadcasting career at all.
Brought up in Pietermaritzburg, KwaZulu-Natal, Shippey says he was so shy as a teenager that friends laughed when he mentioned his dream of working behind a microphone.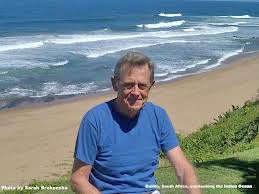 At age 19, he applied for an announcer's position at the SABC's Aliwal Street studios and was told he was so poor that he should "never to try again." Instead, he altered his study hours as a post-graduate student at Natal University, Pietermaritzburg, so he could spend four hours every day in voice training, often with a former broadcaster.
"Whenever the family was out of the house, I took delight in reading every play by Shakespeare out loud to my dog, Dingaan," he says. He then simply waited for the official who had failed him to leave the SABC, reapplied and landed the job.
A few years later, during a four-year sojourn in the U.K., he competed with 5,000 candidates for an on-camera position with the BBC—and got the job.
Asked how the industry has changed over 60 years, Shippey says, "Everything changes. Nothing changes. I am most often heard these days as a voice on Internet transmissions. I handle laptops and other devices as effortlessly as colleagues 50 years my junior."
And his tips for aspiring South African broadcasters are specific.
"In radio, have a camera on the tip of your tongue; in television, don't state the obvious," he says. "In so much broadcasting today, reporters speak as they write instead of speaking as we all speak in everyday conversation. I even hear words such as "latter" and "former" creeping into live news reports. The joy of live transmissions is that you can repeat words and names without any regard for what many journalists call elegant variation. I say repeat as much as you like—as long as the listener or viewer gets the message—and [state] the facts. And don't offer "facts" till you know they are factual. Check, check and check again."
But his central appeal is a humanitarian rather than journalistic.
"Set the goal of enriching the lives of everyone you reach through your work. Give. Give. Give. I'm grateful to have had such an opportunity," he says.
Outside the studio, Shippey's focus is once again unexpected. Beyond a devotion to his large family, he is all about philosophy and spirituality. In a recent interview with blogger Estey Silva, Shippey revealed that his trademark lack of cynicism extends also to his faith, stating, "I believe in a God who is good. All good."
For Shippey, a good life is simply an unselfish one, and he is not ashamed to allow his values to mold the tone of his journalism.
In his report on the interfaith service at the Cathedral of the Holy Cross to restore hope to a devastated community after the Boston Marathon bombings, Shippey held nothing back. In words that even South African sports fans might still identify with him, he said, "Hearts were lifted on a spring morning on which flawless sunshine replaced any lingering smoke, and Bostonians—reinforced by the healing compassion of people around the world—were reassured that God is indeed here."
Asked why he still works nine-hour days at 80, Shippey points out that the legendary cellist Pablo Casals was once asked why he continued to practice at age 90. He reportedly replied, "Because I think I'm making progress."
Bio
Rowan Philp served as Chief Reporter and Foreign Correspondent for the Sunday Times in South Africa for most of the past decade—a period broken by stints at the Washington Post as Deputy News Editor; a Harvard/MIT fellowship; and two years as London Bureau Chief. Previously, he was based in Boston and served as the North American correspondent for the Sunday Times and Mail & Guardian, reporting on South African expatriates and diplomats, as well science and innovation. He isa currently chief reporter in South Africa for The Witness daily newspaper of KwaZulu-Natal and Media24.
In his 20-year career, Philp has reported from 27 countries around the world, from Haiti and Libya to the civil war in the Philippines and the World Economic Forum at Davos, as well as covering the past four US presidential elections. He has twice been awarded South Africa's highest national print reporting prize, the Vodacom South African Journalist of the Year.