Smartphone App Joins War on Cancer
The CBS News show "60 Minutes" featured a profile of Dr Patrick Soon-Shiong who is intent on disrupting cancer treatment. Born in Port Elizabeth and educated at the University of the Witwatersrand in Johannesburg, Soon-Shiong has lived and worked in North America for over thirty years. He was a respected surgeon before he made his name in the cancer world by developing a drug for treating pancreatic, lung and breast cancer patients. Although the FDA took over a decade to approve Abraxane, the drug became a blockbuster, and made Soon-Shiong a billionaire.
Soon-Shiong is optimistic that cancer can be beaten and he's created a company called NantHealth that is developing the technologies to assist in the battle. He says, "A cancer is not what people think – cells growing. Cancer is actually the inability of the cells to die." He plans to provide patients with the precise genetic mutations that fuel their cancer: "The mutation that happens in lung cancer could be the exact same mutation that happens in breast cancer. So you need to treat that patient based on the mutation and not on the tumour's physical, anatomical location."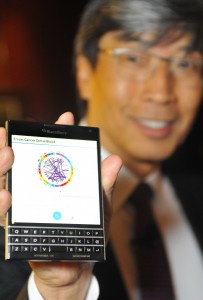 To realize this vision, Soon-Shiong's company has developed high-speed machines for sequencing a tumour's genome. Run by supercomputers, NantHealth plans to find every single genetic mutation that causes cancer. Then a patient, who could be located anywhere in the world, would have his or her tumour biopsied and the sample sent to the company's headquarters in Los Angeles. A complete genetic map – all the way down to the protein level – would then be created within a matter of hours
To make this personalized information available to the patient's physician, NantHealth has partnered with BlackBerry to deliver an app that runs on the company's Passport smartphone. Soon-Shiong enthuses, "It'll be the world's first browser of the cancer genome, so think about that. You'll be able to fly through to get to the single letter that's mutated."
The NantOmics Cancer Genome Browser will be launched next month at the Consumer Electronics Show in Las Vegas and will enable physicians to see a patient's chromosome at an individual base-pair level. The app will allow an oncologist to select the ideal drug(s) to target the tumour. While there are some experts who remain skeptical, believing that complex science still lies ahead, Soon-Shiong is upbeat and impatient: "The war against cancer is a war against time."
U.S. biotech billionaire Patrick Soon-Shiong grew up in Gqeberha (Port Elizabeth) and exemplifies how expat South Africans can be a brain gain, not a brain drain for Africa!
https://www.enca.com/news/us-biotech-tycoon-opens-africas-first-end-end-covid-19-jab-plant