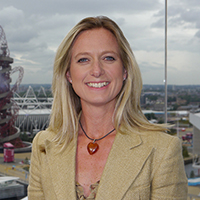 South Africa's Olympic filmmaker pioneers a platform to address the global crisis of employee uncertainty and self esteem
By Rowan Philp
Vast numbers of business professionals are now facing the anxiety of a deeply uncertain future, as automation, digital transformation, and competitive disruptions recast the global economy.
While business journals are devoted to discussing corporate strategies to survive the revolution, much less attention is paid to how to equip this army of disrupted employees with the mental and self-esteem tools to survive in their careers, and to preserve their performance for businesses through this period of vulnerability. This, as surveys already show staff engagement at just 32 percent in the U.S., and far lower, on average, globally.
Emmy-nominated South African-born filmmaker Caroline Rowland, founder of the UK-based New Moon agency, is the ultimate biographer of competitive success, having deployed her documentary films to help a dozen cities and countries win global sporting events, including the 2012 Olympic Games for London.
The recipient of the Distinguished Rhodian Award by her alma mater, Rhodes University, in 2016, Rowland was the 2013 South African Women in Business award winner, and has been twice nominated for Britain's Entrepreneur of the Year title.
However, having produced hundreds of interviews with Olympic athletes and global brand leaders, Rowland told SABLE that she was struck – even astonished – by how many high performing individuals say they were mentally ill-equipped to deal with uncertain futures, even at the height of their success.
She realized what a growing number of CEOs are now worried about: that while we all know that we should, for instance, be active, eat nutritious food and avoid smoking to remain physically healthy, most professionals have no idea what habits and tools to leverage to remain mentally resilient to drastic change, at a time when this knowledge is most important.
For Rowland, this challenge could presage nothing less than a wholesale pivot for Corporate Social Responsibility programs from purely external to a mix of external and internal.
As a result, Rowland is pioneering a new, TED Talks-like business solution to address the coming wave of corporate need for emotional resilience in its workforce – as well as a critically needed open-access platform for the public.
Now seeking investment partners and angel funding, "Story Vault" will be a unique anthology of video interviews which explore the relationship between high performance and positive mental health, revealing the personal strategies that business and athletic champions employ for heightened mental fitness.
Rowland says Story Vault will be built on three platforms: a licensed product for corporates, and training and engagement programs, featuring high profile achievers; a no-fee, TED-style public platform; and an access-limited research platform for academic partners.
"In the corporate environment, the interviews will primarily be with recognizable and revered faces – with content delivering against very specific objectives defined by corporates," says Rowland. "They can be used within organizations for training, for employee engagement, for management esteem, for help in managing exits or changing skill sets – but with the priority being all about developing a really sensible and practical approach to critical thinking and to problem-solving.
"In the public platform, there will be some unexpected stories – people who you don't necessarily think of as heroes, but whose story is such that all of us can learn from them. The idea is to peel away the layers of the onion and really start to understand what lies at the heart of developing the sort of self-esteem that allows us to function at a high performance level."
Giving Rowland a running start, as well as direct inspiration, in the innovative venture is that existing content from New Moon – including exclusive interviews with iconic global stars – will be available to Story Vault.
The business plan calls for 52 high profile interview releases in the first year for the corporate platform – becoming a week deliverable for license holders – as well as 52 stories for the public platform.
Rowland says seven of the corporates that she is working with say that between 40 and 60 percent of their jobs will not exist in five years. And employees know it – which threatens to produce a "generation of people living in fear."
To help understand the impact of these new pressures, Rowland has commissioned preliminary research on employee insecurity, and how it is impacting their performance, and corporate performance overall.
Already, Rowland says both executives and health professionals indicate concern that this fear can trigger or deepen illnesses like depression and stress disorders.
She says she has found both shocking evidence of the problem and effective personalized solutions in her vast archive of candid interviews with elite athletes, entertainers and entrepreneurs.
"Working on a big series for the Olympic Channel, which explores the lives of 10 of the world's most famous Olympians, and where I conducted the interviews – people like Michael Johnson, Nadia Comaneci, Ian Thorpe, Katarina Witt, Shaun White – one of the things that repeatedly struck me was the vulnerability of people who are required to sustain high performance throughout their careers, and how ill-equipped we are mentally to be able to manage the things that confront us," she says. "Then you think about the challenges corporates are facing with employees now, and the difficulties that people in this very insecure working environment face – and there are some staggering statistics."
"Yes, there are clinical causes for mental illness, and I'm not for one minute purporting to get involved in addressing issues of mental illness. I'm talking about prevention, and the promotion of positive habits for being mentally healthy."
Since she founded New Moon in 1996, her story-telling agency has helped more than a dozen cities promote or secure major sporting events, including the 2020 Youth Olympic Games for Lausanne, and the 2022 FIFA World Cup for Qatar, and the 2014 Winter Olympics for Sochi.
In the world of business, Rowland's vivid campaigns have helped secure the Unilever and BBC audit contracts for KPMG, and helped Dubai win the rights to host the World Expo.
However, she rose to global prominence with her direction of the official film for the London 2012 Olympic bid, which "won London the Games," according to the city's mayor. Perhaps more important: it also inspired the UNICEF "International Inspiration" program, to channel 12 million children in 20 countries out of poverty though sport. Her documentary feature 'FIRST' – which chronicled the stories of 12 first-time Olympians at the London 2012 Games – was later nominated for an Emmy.
Now, Rowland says she is energized by the challenge of pivoting to mental health as both a viable business innovation, and a public service.
She has already established twin homes in London and Los Angeles for the proof-of-concept phase.
And while other NGO and media platforms focus on mental illness and the tragic drama often associated, she stresses that Story Vault will focus on the "health" part of mental health.
"Story Vault is not about stories about mental illness. It's about how, practically, real people create and maintain mental health in the face of challenge. It's about empowering people to be adaptable and develop their self-esteem."
She adds: "I think there is a danger right now of mental illness becoming glamorized by so many celebrities and high-profile people coming forward saying, "I've had a mental illness."
In contrast, one her recent interviews features a six-time Olympic medalist who tells Rowland about suicidal thoughts she had while literally standing on the medal podium – due to the lack of preparation she had for a life beyond competitive success.
However, the story focusses, instead, on the athlete's successful strategy for emotional resilience and goal-setting afterwards.
She notes: "She actually had to teach herself a methodology by which to become engaged with the world and become truly healthy, because nobody teaches us that stuff."
For Rowland, the interview format is key.
"I think, we have, as a human race, kind of suppressed our desire and ability to tell stories, in a rich and beneficial way to others – this needs to be reignited," she says. "In hearing other people's stories, we find a genuine solace; we find inspiration; we find connection. It's what I did with New Moon for 20 years. And I think it could be very effective in helping to solve a growing global issue.
"Even if you don't think that a TED talk is going to be of any interest, there's inevitably something that does resonate. Films, narrative, and particularly, interview, in my opinion, really hits you at the solar plexus level. You don't have to read anything. You don't have to study anything. You don't have to answer. You're not required to do a test. It's just about going into the story and thinking: 'Wow, I recognize myself in that. I can do that too.'"