South Africa's Vitality Group Has a Healthy Start in the U.S.
By Rowan Philp
When the Vitality Institute was launched in New York in May this year, its very first finding stunned the room.
Using data from the National Health and Nutrition Examination Survey—the new wellness research arm of The Vitality Group, which is a member of South Africa-based Discovery Holdings Limited—Vitality revealed that Americans are, on average, five years older than they thought, and a quarter of Americans are more than eight years older than what their birth certificates suggest.
But just as remarkable were the stories of slashed health risks and insurance costs emerging from the roughly 3 million Americans who have enrolled in the Vitality wellness program since its rollout in 2008.
Originating as part of a revolutionary insurance product under the Discovery brand in South Africa in 1997, Vitality has since been widely credited with pioneering a global wellness movement to incentivize changes for healthier lifestyles. In a partnership with Prudential, also called PruHealth, Vitality has already had a major impact in the U.K. as a health insurance benefits scheme.
But Tal Gilbert, Vitality's Senior Vice President for Marketing in the U.S., says the costs of unhealthy staff lifestyles for American employers—including average annual insurance costs of $12,000 per employee, as well as productivity losses associated with obesity and diabetes—were so severe that Vitality has been rapidly adopted as a stand-alone wellness and preventive disease model in the workplace.
Using actuarial science modeling and personalized health risk reduction solutions for each employee, Vitality offers core online programs for exercise and nutrition, driven by incentives ranging from lower premiums to store discounts and the pride of measurable health status goals.
However, Gilbert says the basket of incentives has been rapidly expanding, particularly following a partnership with Humana, and that many of these incentives were boosting healthy behaviors in a risk-reducing cycle, which seems to offer a glimpse of a future global trend.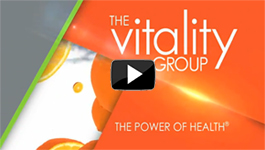 For instance, Avis employees enrolled with Vitality will receive 10-percent discounts on healthy foods purchased from Walmart under the under the "Great For You" brand. This follows a major study by the Rand Corporation, which revealed that members in South Africa who were offered similar discounts upped the ratio of healthy food purchased in their grocery baskets by 9.3 percent.
In yet another reinforcing health improvement cycle, Gilbert says a number of food manufacturers in South Africa are now asking how to modify their products in order to be included in Vitality's healthy foods list. Thus, the battle against both health risks and costs is being increasingly fought with an array of carrots rather than cheese sticks.
Born in Johannesburg and trained in actuarial science at the University of the Witwatersrand and in development studies at Oxford University, Gilbert made the switch to product development and marketing in the U.K. after the Discovery-Prudential partnership was struck.
He moved to the U.S. in October after a four-month stint in Hong Kong, where he led the formation of a joint venture between Discovery and Asian insurance giant AIA. This partnership was launched in July.
Gilbert says many U.S. members participating in the wellness programs were starting to see their health improve while their employers benefited from similar improvements in the health of their staff and boosted productivity.
In many cases, the changes were so marked—and their potential so revolutionary for the U.S. as a whole—that the Vitality Group launched the Vitality Institute as a dedicated source of evidence-based research into health promotion and non-communicable disease prevention.
At the launch, Nomonde Xundu, health attaché for the South African embassy, suggested that a South African idea could revolutionize the economics of health in the American workplace.
Gilbert said the Vitality idea—for insurers to incentivize a change to healthier behavior among its customers—came directly as a result of a unique post-apartheid challenge to keep insurance premiums and claims low when the resources of a national healthcare system are suddenly refocused from serving 5 million people to 45 million.
"Who would have thought that this transformational wellness approach in the U.S. came out of a post-apartheid health insurance sector in South Africa…that this would trigger something now at the center not only of US health care, but globally?" says Gilbert. "In 1997, after a period of deregulation, we had to think much more smartly about how to allocate healthcare resources. One of the ways to be much more efficient about how you spend on health care is by helping people live more healthily, and that's how Vitality was born. To my knowledge, it was the first of its kind. We received recognition for that years ago in The Economist, the Times and elsewhere."
Launched in 1992 by Adrian Gore, Discovery has grown to become one of South Africa's largest and most successful companies. Gore was selected as Entrepreneur of the Year in 1998, CEO of the Year in 2004 and Business Leader of the Year in 2010, a period in which Vitality acted as an engine for growth. It has since developed the Vitality model along with some of the world's largest insurers, including Humana, Prudential, AIA and Ping An in China.
In March this year, Finweek declared that the Vitality program should be considered among South Africa's greatest inventions.
When Mel Leibach, an Illinois human resources manager, was 63 years old, he was really 72. A clinically verified Vitality assessment showed that his "true age"—after major surgeries and years of poor diet and exercise—was dramatically higher than his chronological age.
Now, at age 65, Leibach's true age has been revised to 63, according to his latest health risk assessment, while his productivity at West Star Aviation has increased.
Having committed himself to the healthy nutrition and exercise regimens on the Vitality program, including bicycle-riding and a low-cholesterol diet, Leibach reduced his weight by 50 pounds and lowered his blood pressure and cholesterol levels to acceptable levels. Leibach says workplace encouragement among the staff in achieving Vitality goals drove his success.
"The personal ful­fillment you get comes not only from feeling much better physically and emotionally, but also from the opportunity to help someone else," he says.
Gilbert says Vitality's growth has boomed ever since employers began to understand the impact their employees' lifestyles were having on their health, as well as their impact on healthcare costs."
On average, an employer is paying about $12,000 per employee per annum for healthcare, which is a huge proportion of payroll costs. They've seen the prevalence of obesity, diabetes and even smoking, which was having a huge impact on employee performance and health costs.
"A lot of that growth has come in the last year or two; particularly post-recession, employers are starting to invest more in wellness," Gilbert says. "Vitality is present in the market in three ways—first through the Vitality Group, providing directly to large employers; second in a joint venture with Humana, where Vitality is embedded in their health insurance and Medicare products; and third in a partnership with ADP, a huge HR and payroll provider that is integrating the product for small and medium-size businesses."
Gilbert says one recent report ranked Vitality as the top wellness provider in terms of benefits and service. However, he adds, "In the U.S., the wellness market is very developed. It's amazing, in the last few years, how many people have begun trying to promote wellness to employers."
Now, Vitality is set to lead the field in research as well.
Gilbert says the Institute would collaborate with academic institutions, NGOs and the private sector to produce data on both the clinical and motivational factors behind lifestyle-driven diseases. The institute is headed by Dr. Derek Yach, a South African epidemiologist who was formerly Head of Global Health for PepsiCo. He also served as Executive Director of the World Health Organization.
"Though there have been major strides in reducing smoking, no country really has cracked how to deal with obesity; there are no examples of a successful national reduction of obesity (and diabetes) outside of war and famine," he says. "We need a better evidence base of which interventions work."
Bio
Rowan Philp served as Chief Reporter and Foreign Correspondent for the Sunday Times in South Africa for most of the past decade—a period broken by stints at the Washington Post as Deputy News Editor; a Harvard/MIT fellowship; and two years as London Bureau Chief. Previously, he was based in Boston and served as the North American correspondent for the Sunday Times and Mail & Guardian, reporting on South African expatriates and diplomats, as well science and innovation. He isa currently chief reporter in South Africa for The Witness daily newspaper of KwaZulu-Natal and Media24.
In his 20-year career, Philp has reported from 27 countries around the world, from Haiti and Libya to the civil war in the Philippines and the World Economic Forum at Davos, as well as covering the past four US presidential elections. He has twice been awarded South Africa's highest national print reporting prize, the Vodacom South African Journalist of the Year.